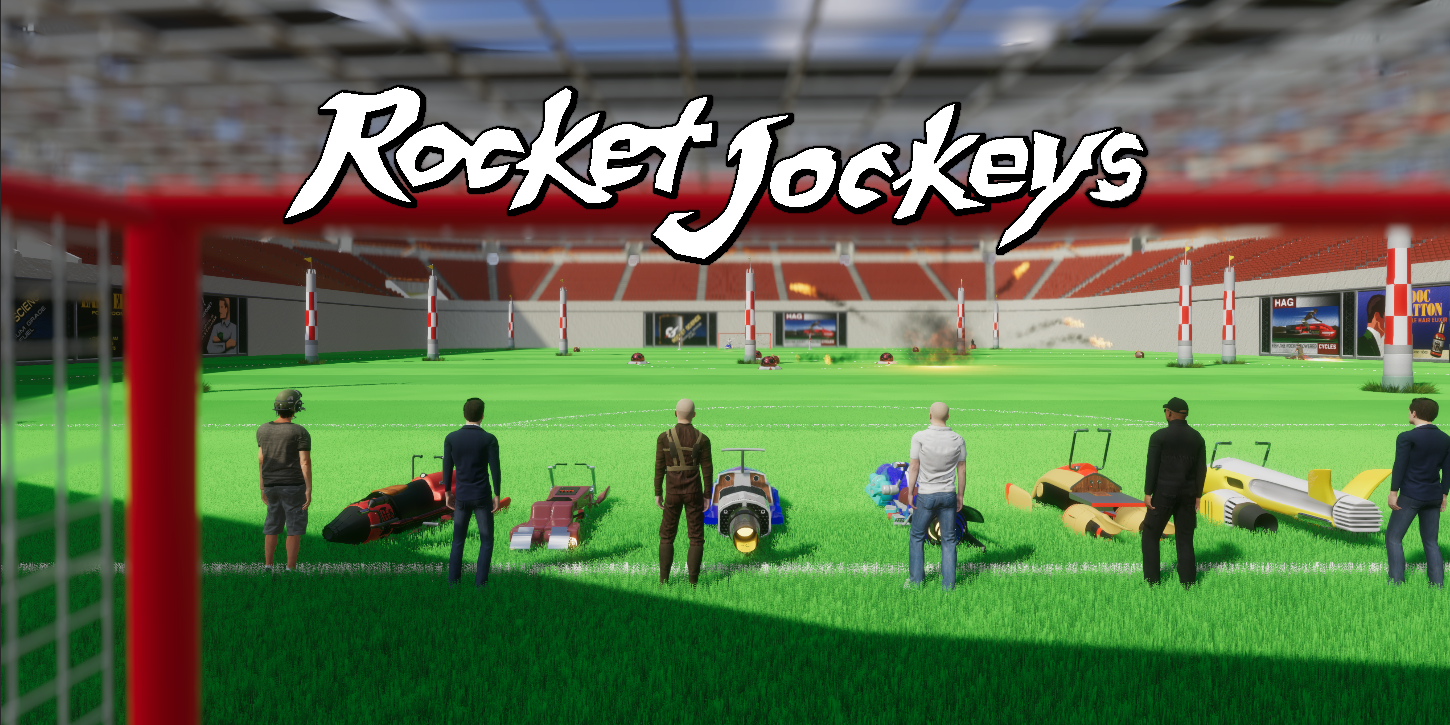 Rocket Jockeys - The Remake
Build 115 - Good Night USA!
---
BUILD 115 - The build where stuff got polished and the lights turns on in the night.

Major Changes
Added Night and Day environments.
Keys and Button Binding fixed (including Player 2)
Added Tutorial.
Added Flail.
Harpoons targets corrected
QOL improvements
Tons of bug fixes
Known bugs: Key rebinds still show wrong binds after a restart

D115
Cable Color invert toggle.
Fixed getting stuck with a nudge, fixed rocket sometimes not spawning after level restart
More skies

D114
Added Spray powerups GUI indicators.
Added Radar invisibility on spawn (uses Unknown 16)
Added stealth(radar too)
Fixed Undies
Fixed the win by killing on ball mode.

D113
Tutorial Added
3D sound effects in Mixer (meaning immediate volume adjustments for 3d sounds).

D112
Added new options panel, Not yet implemented.
Quality settings slider fixed with new up to 10 graphics setting.

D111
New HDRIs and Night Day systems.
Major Lighting and Glowing Changes.
Harpoon now has target flags according to levels.
Radar now tracks your Balls.
Ball inactive re-spawn improved
QOL - added level fail reason.
RocketAI and RocketBallAI improvements, No more explosions when stuck.
Added temperature throttle control function for AI.
Mines release rocket cable after explosion.
Added cool overheat beeping noise.

D110
Added Flail
Fixed Xbox Rebinding
Added Player 2 rebinding
Added controller Pause
Reduced threshold velocity for getting up
Some Changes to cable traps and cable manager to support flails.
Fixed RB0503 1664 second timer for dispenser. - Game Breaking bug.
Changed RW0301 flail armcount to 2 to match original game.

D109
Added Ragdoll Cannon in menu
Reduced balls tether time.
Added ref Wistle in ball mode
Added more player sounds
Changed some graphics and materials
Added Ball 5 Sticky bomb (not used in original game)

Files
Rocket Jockeys - Build 115.7z
546 MB
Aug 23, 2021
Get Rocket Jockeys - The Remake